Today was a slow day for the most part at our house. Gustav was nailing Cuba and staying just ambiguous enough on his path that we were sure if we'd have to evacuate or not. So far tonight it's looking like we're staying here and Gustav is going to Louisiana. Kendra isn't feeling well and Levi is on and off fussy, probably because of the previously mentioned toothing. This morning Kendra was back sleeping after helping out a little in the morning. Levi was getting a little fussy and I was trying to take care of laundry, so he went to hang out with her. About an hour later I went into our room and found the scene below.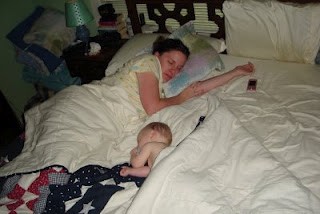 Later in the day we went to Buffalo Wild Wings to watch the Longhorns play Florida Atlantic. It wasn't televised except on pay per view, and I didn't want to pay $30 for it. We ended up spending that much, but on yummy wings, which seems a lot better to me. Here's Levi sticking with the color theme for the night eating sweet potatoes.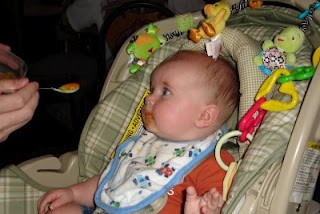 After he ate he was sitting on our table playing. We had finished our appetizer and hadn't gotten any wings yet, so this worked out great. You can see he is wearing his first Longhorn's tee. He is growing out of it, but luckily we have plenty more Longhorn gear for him.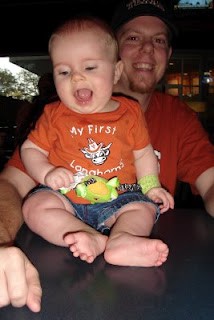 About halftime Levi was done. He passed out in my arms and we ended up heading home. The game was on radio, so I still got to listen to the rest of the beating we gave FAU. All in all it was great to finally get back to college football. 246 days was just too long.