Here's Levi with Olivia on the Metro Rail. It was cold out and Olivia was bundled up in her fancy little carrier thingy.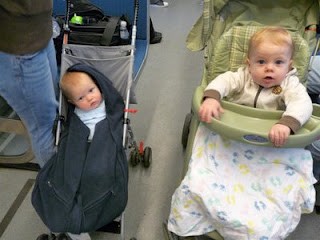 When we first got there we scoped out the food places. Nothing was open yet, but we thought we'd check it out. We found this place and decided to come back later.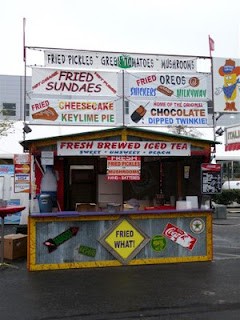 There was a giant logo for the Houston Livestock Show and Rodeo wandering around. Here Levi looks more surprised than he really was.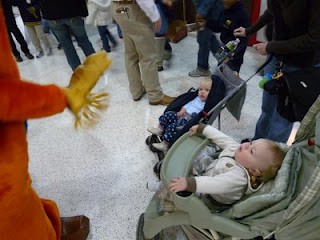 We checked out the petting zoo. We got there early and got to spend a lot of time in there. Later a lot of school kids where there, so we wouldn't have gotten to do much. We were glad we got in early.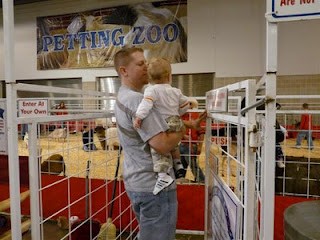 Here's Levi with Olivia and her mom Ann. I don't know the goats' names.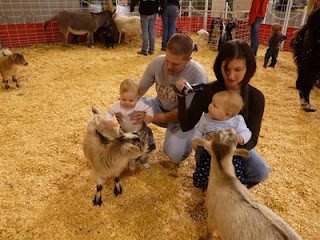 They had a deer in the petting zoo. It had a clothing fetish. It would wander up behind you and nibble on your shirt. There was even a sign warning that they weren't responsible for the deer's snacking.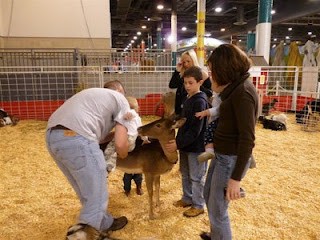 Levi liked the lazy llama. Well, I don't think it was a llama, I think it was an alpaca, but I love alliteration.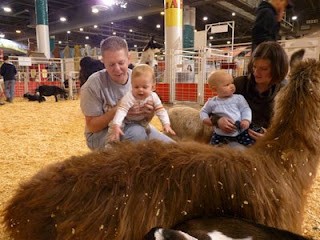 They had some sort of marsupial in a pouch in the petting zoo. There was another one elsewhere, but not in a pouch. We don't know if it was a kangaroo or what, though that's what we called it.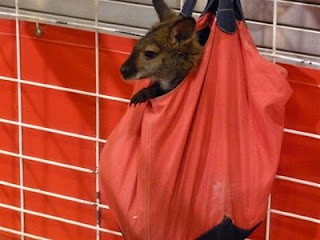 Levi had lots of fun petting animals. He wouldn't let me put him down for a while, insisting on staying in contact with us.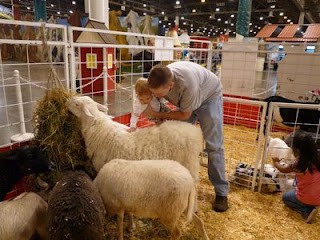 There were baby goats in a couple of little side pens. There was also a kangaroo in here.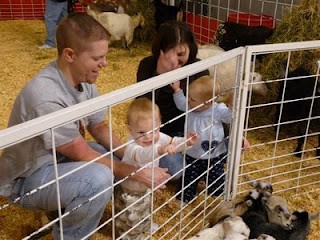 Eventually I convinced him to walk around, though we kept a hand on him. He can walk pretty well, but he's had allergy/cold issues this week and has been falling more. With the droppings we didn't want him to fall. They were cleaning them up quickly, but it wasn't worth the risk.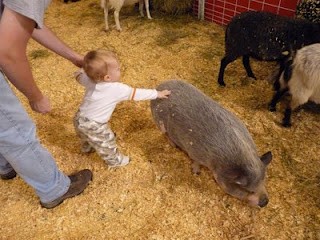 One last animal by the exit before we headed out of the petting zoo.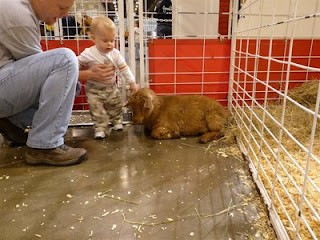 Levi likes to do silly stuff when he's walking around. This is a great example of that. He's looking through his legs behind him. Very silly.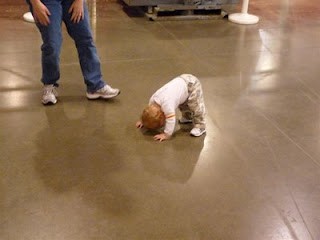 Levi is starting to do hugs when you ask him. Its very cute and we love it.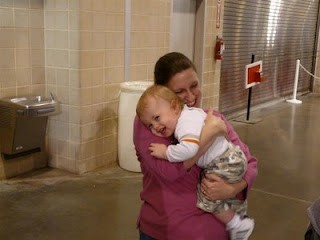 He was in a pretty good mood for the day, so we had lots of fun.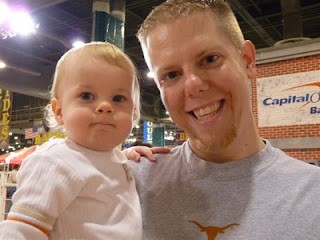 Here's Olivia saying hi to Levi. I think she wanted directions to the baby chicks area.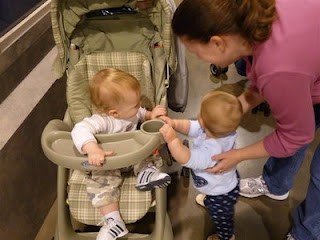 They had a longhorn available for picture taking. There was no way I was passing that up. Here's the three of us hanging out on a longhorn. Levi was not very sure about this. It took him a while to warm up to the petting zoo. The longhorn was a lot larger.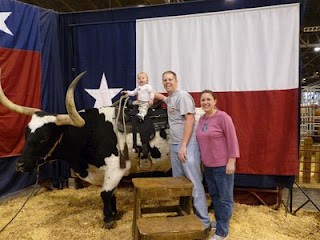 He did pet the longhorn, but was much happier once he was off the saddle.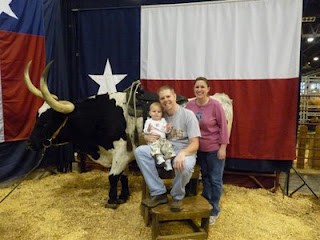 Now Levi is asking Olivia for directions.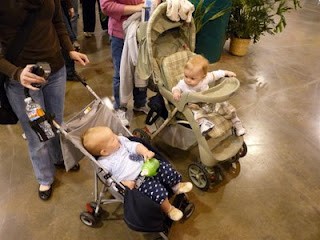 They found the chicks eventually. It can take them up to a day to hatch. They were wandering around the area after getting out looking so exhausted they couldn't keep walking. One of them was still most of the way in a shell breathing heavily.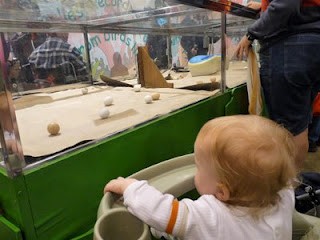 Levi wasn't sure what to make of the chickens. He's used to seeing them in nugget form only.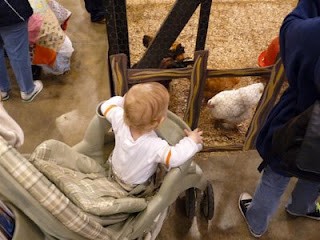 Olivia was distracted by all the other people more than the chickens.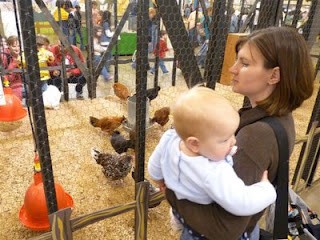 I didn't tell this guy what my plans were for eating later. He would not have been happy.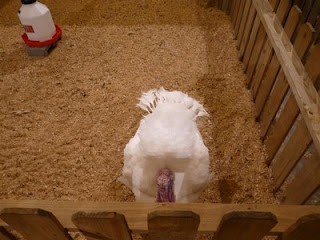 The line to actually pet the bunnies. We opted to just go look at the ones in the cage.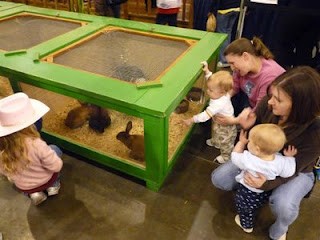 Levi managed to untie his shoes as you can see here. They were double knotted and everything.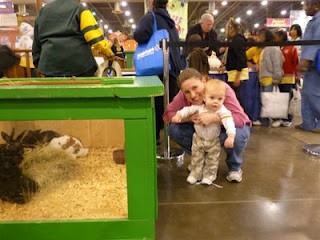 Here's what we won't share with the turkey earlier. I had a giant turkey leg and a sausage on a stick.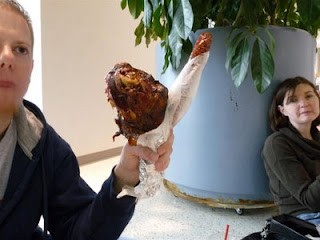 Here's the other food we got. That's fried pickles on the top right, fried Oreos on the top left, a fried chocolate dipped Twinkie in the middle and a fried Snickers on the bottom.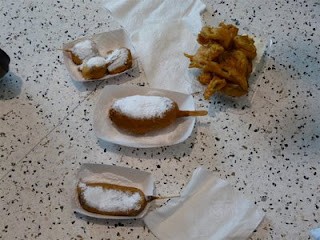 After all of this stuff Levi was just plain tired. He was passed out in his stroller for about an hour.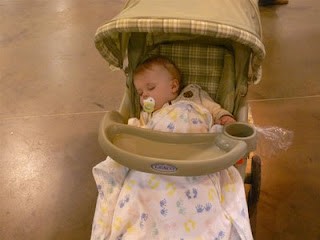 On the way out we stopped to get corn dogs and I got some churros. Earlier we had also gotten some kettle corn, which we both love.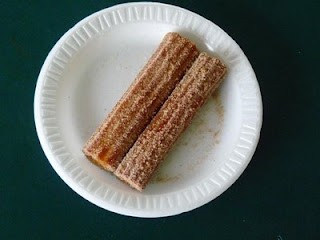 It was a fun day off and I'm sure we'll be back next year.