For Thanksgiving we took Levi on his first big trip. We went to Baltimore, Maryland and Bath, North Carolina, both places to visit family. Since its colder up north we had to gear him up for it. Here he is modeling one of his items, a reversible vest.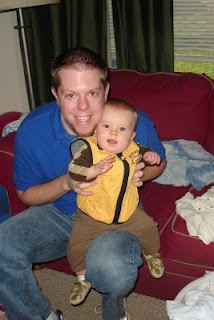 It seems to be a tradition in our house that any child old enough to move on their own ends up in our dog's kennels. Levi has used his new mobility to join the crowd. Here he is on his first trip, contemplating an oval toy. Check out those teeth.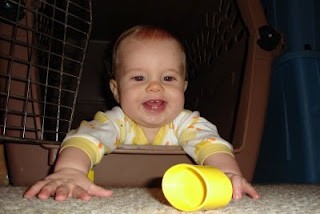 First plane ride! Levi had his own seat for the ride, to save us from having to hold him the whole time. We probably could have done it, but this was nice for the nap feature, which was employed on the way to and from the vacation.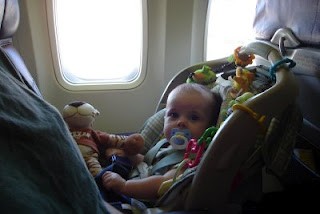 Here is the nap feature in action.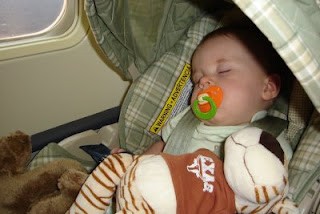 Levi got to meet his great granny on this trip. This is my mom's mom. Here he is on her lap taking a look at Taz. We went over on the Saturday before Thanksgiving to give them a chance to hang out before the whole crowd gathered. My family is big, so this is a good thing.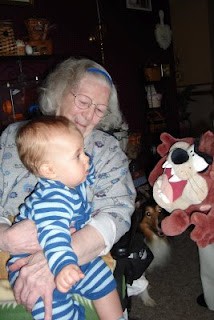 Levi learned to start waving on the trip. Here he is waving to granny.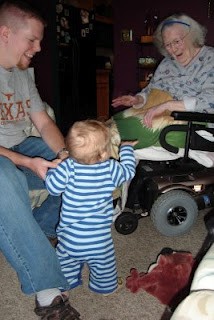 Here is Levi hanging out with his Aunt Carol and Uncle Bill. He had fun playing with them and their great toys.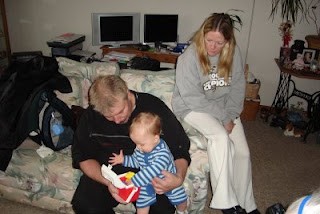 Here is Levi with his Aunt Doris. He hung out with her a lot. Any similarity in her appearance to his grandma is purely coincidental and will be denied by both grandma and Aunt Doris. After all, their hair is different.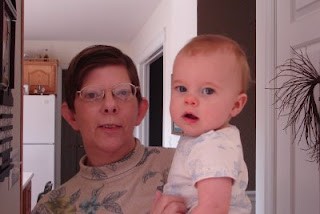 Here's Aunt Carol enjoying some Levi loving.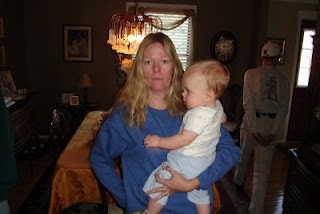 Aunt Janet is loads of fun, Levi really liked hanging out with her. She must have liked him, she even broke her cardinal rule of no cleaning up anything that comes out of the baby. She wiped up a little spitup off of him. Apparently it wouldn't have matched his outfit, so it had to go.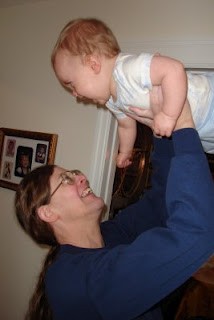 Levi liked Granny's brakes on her wheelchair. He wanted to turn them off and go!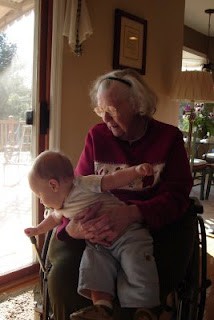 Levi likes beards, Uncle Mel's was a lot of fun, its longer than daddy's, so it was good to play with and grab on to.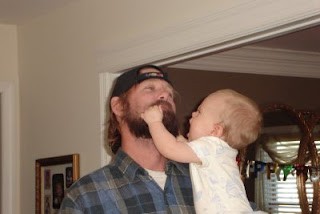 Here's Levi hanging out with Aunt Linda and Uncle Mel.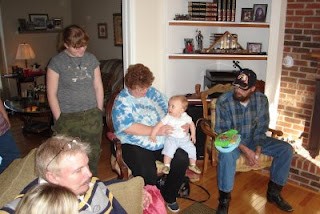 Here's the crowd hanging out watching TV. We were all together for Uncle Mel's birthday. He's going to be 50 on December 7th, but since we were in town there was a surprise early birthday party.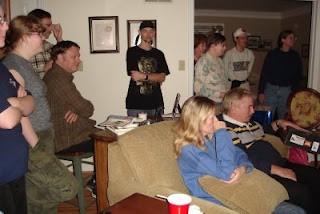 Here's Uncle Kenny chatting with Levi over mommy's shoulder.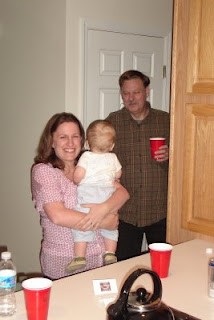 I have a TON more pictures, and I'll slowly be posting them. We took almost 350 pictures and some good video as well.