I just realized it has been several weeks since I have made a post. Boy time sure goes fast!
We leave on vacation tomorrow and won't be back till December. Man that's weird to say. This year has gone so fast! It has been an awesome year too! We are so blessed!!!
Levi is getting over another ear infection. He just can't seem to shake it. He is such a trooper though. He is generally a very happy little guy. Please pray he heals fast and can enjoy our trip.
Today we went to get Christmas/9 month photos taken. I have to say that this was the worse experience we have had in 10 months. We went to the new JP Penney by us (3rd time) and the girl must have been new. She was so quite and boring. Levi didn't smile at all and even started crying when he bumped his head in this pose that would be cute next year. We did get a good family shot and then one that works for his 9 month pictures. I decided that I am going to ask who is shooting pictures next time and give this location 1 more chance. If it stinks like this one, we will go back to Baybrook Mall. The traffic is horrible but the girls that take the pictures are great with kids.
Like I said earlier, we leave on vacation tomorrow. We fly to Baltimoreto see Robert's family and stay till the Saturday after Thanksgiving and then we will drive to North Carolina to spend a few days with my Grandparents. We have so much stuff to take with us! I think it wouldn't be so much if we weren't going in the late Fall/Winter. We just don't know what to expect and winter clothes are bulkier. It will be a fun visit though. I will try to post pictures as soon as possible.
Well time for bed. Here is one picture I thought I would share. Robert has some really cute ones on his blog. We haven't gotten all the pictures from the camera yet.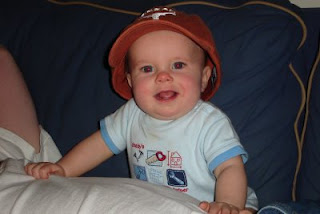 Have a Happy Thanksgiving!
Love, Kendra