Here's Levi enjoying the morning sun on the nice wood floor. He liked the wood, it made it a lot easier to move quickly. Carpet has too much friction. Of course carpet is softer when you fall too.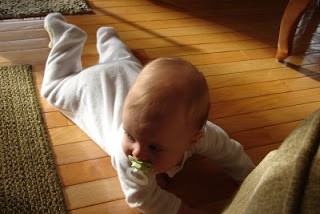 Levi really enjoyed reading the paper while we were in Baltimore. Here you can see him checking for sales in the Thanksgiving paper.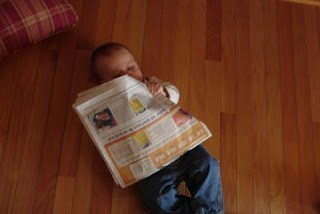 Here's Levi in his Thanksgiving onesie. He was playing with his hair brush, which he loves.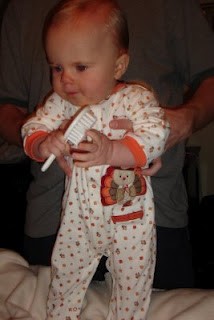 Levi learned to wave on the trip and took lots of opportunities to practice.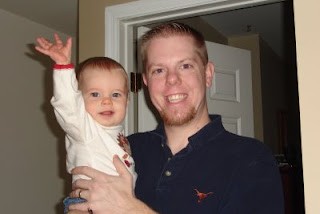 Levi hanging out with granny early on Thanksgiving. That's his little turkey outfit.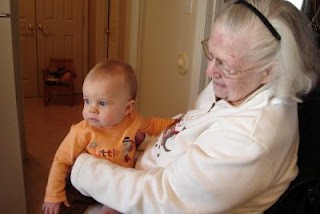 This is Bria, one of my Aunt's nieces. Levi was flirting with her a lot.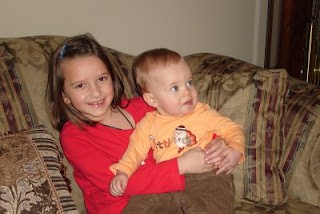 Levi was actually flirting with all the girls. Most of the girls aren't blood relation to him, so its okay :oP.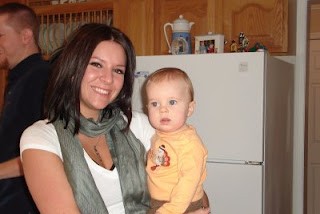 Here's all the kids playing video games, most of them on Nintendo DSs. What you can't see is me sitting by the window playing on mine.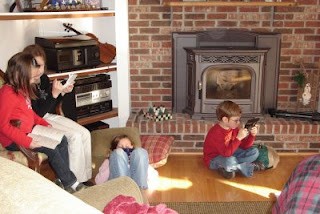 My aunt and uncle had a stove to warm the room and Levi LOVED to look at the fire. Here he is staring at it.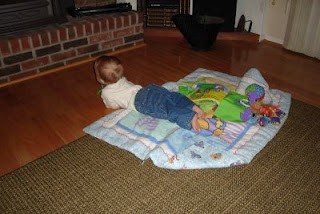 This is Barb, my aunt's sister. Levi liked her a lot. You can tell she has grand kids and knows how to handle them.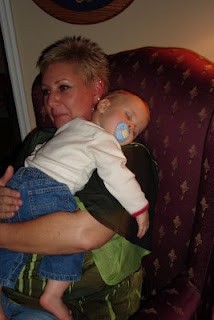 Apparently its tradition to get a picture of all the kids together, so here they are. Levi was the newest addition and was enjoying hanging out with the girls again.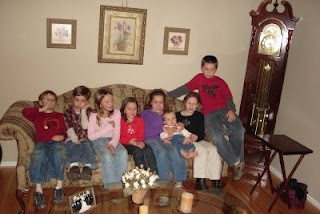 Here's the happy family hanging out.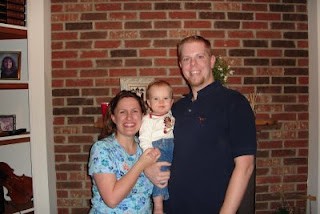 And a good shot with his great granny.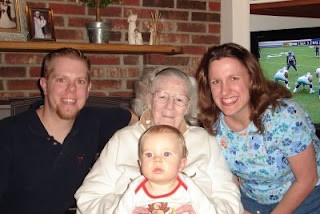 This is all of my mom's brothers and sisters that were present. She has 3 sisters and 4 brothers. Uncle Larry is standing, Aunt Doris is squatting, Granny is holding Levi, and Uncle Mel and Aunt Janet are doing bunny ears on each other.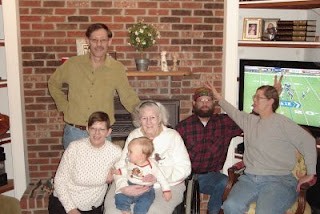 This is Aunt Sallie and Uncle Larry. We were staying at their house and we had a great time with them. They have a lovely home and made us feel very welcome.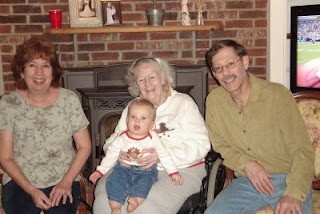 This is my cousin Christina. We are very close in age, so we group up seeing each other when I'd visit up there.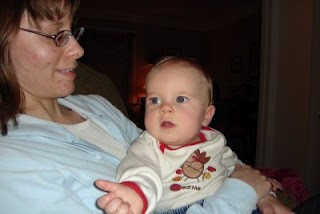 Here's Levi attacking Uncle Mel's beard again. He just loves pulling on those beards.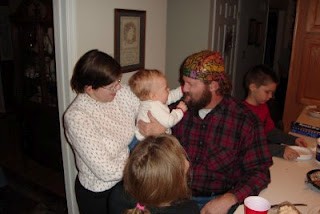 There's still more pictures coming, this only gets us through Thanksgiving, so tune in again soon and I'll have more Levi pictures.