We decorated the pumpkin Levi helped pick out last night. I decided we would defer full decorating until next year when Levi can really enjoy it. This year we went with the plug in Mr. Potato Head style decoration. We let Levi pick out each piece. Here he is with the nose he chose, a Pig nose.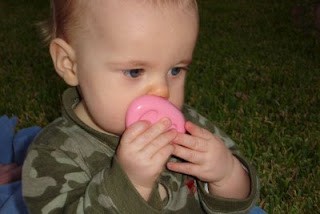 Here I am putting in the eyes Levi picked out.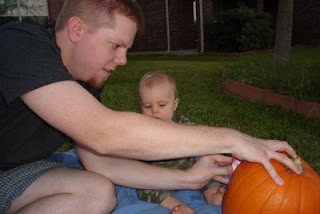 And here is Levi handing me his chosen nose.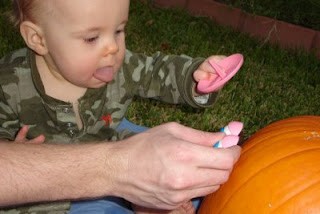 And here is his completed "Cig". That's a cat-pig. Those are cat ears he picked out with pig nose and pig eyes. There's a pig tail on the back.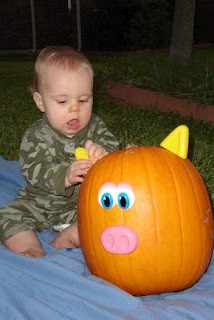 Here's one of Levi's Halloween items, its a nice orange long sleeve onesie that says "This is my Halloween costume". He has a costume, but this is for other use. He wore it to his school fall festival.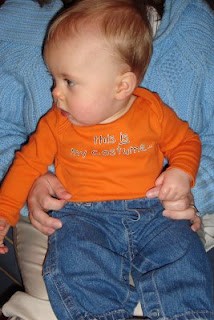 Levi is getting to be a shaggy hippy baby. His hair is longer than mine. We've started brushing it to get him used to the idea. We then let him play with the brush.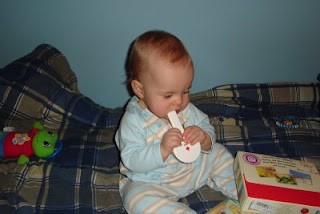 Here he is getting his hair brushed. Most of the time he just stops moving and looks at you while you do it. He loves the feel of it, of course who doesn't.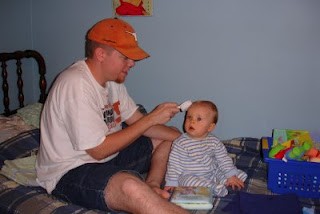 Texas keeps winning, so Levi keeps wearing Longhorn outfits on Sundays. I wear them all the time, but he only has two, so we have to make a special effort to get him setup for this. I'm sure he'll wear them even if they aren't winning, he was before the season started. It will just be a little sadder.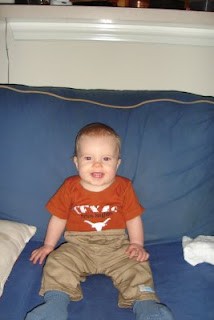 Levi's grandma got him a Hawaiian outfit when she was in Hawaii. He has another one for next summer. This one was for 6 months, so he didn't get to wear it as much. The next one I'm sure he will wear more. The one for next year matches one they got for me and Kendra. We should get some great shots from that one.