Before the evil Ike hit us we were just a happy family hanging out and putting mohawks on our baby.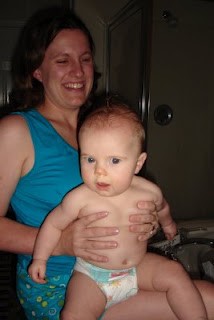 Then Ike decided to head our way. We borrowed Kendra's step dad Charlie's Four Runner and loaded it up with stuff.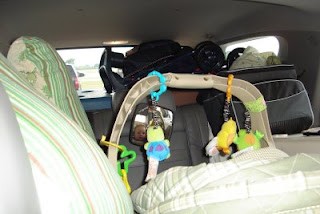 Here we are about to go, don't we look happy? Its a lie, we didn't want to go, and we weren't happy about it.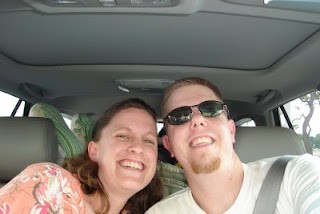 At least when we got to our evacuation location, Austin, we had things to do. We stayed with Kendra's Paw Paw, and got to visit her college friend Jocelyn and my friend Stephen. I'm sure she'll post some pictures of some of that. Below is a great shot of Levi and I getting his college education started. The first step is knowing where to go, so we showed him around the right answer, UT Austin.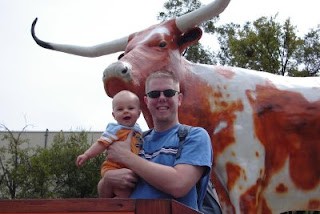 We have been talking about getting Levi a buddy to sleep with so he has a toy in bed if he wakes up. With that in mind we got him the little toy you see on his left. Its an orange tiger wearing a UT shirt. We decided to name him Ike. On his right he has Cooper, a giant Longhorn from the Co-op bookstore in Austin. It was a pretty good price.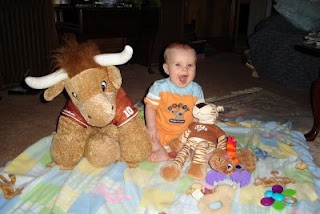 Here is Levi doing one of his new tricks with Paw Paw Jancha. He can stand up now with assistance, and he loves doing it. If he's laying on his back you can get him to hold your hands and then pull him up. He thinks its the greatest thing ever. Below he is looking at the two kitties in their carrier before we headed home on Tuesday after the storm.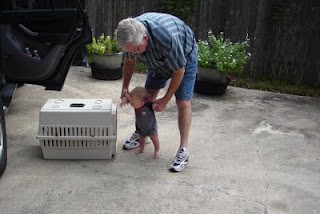 Here's the back of the SUV loaded up most of the way.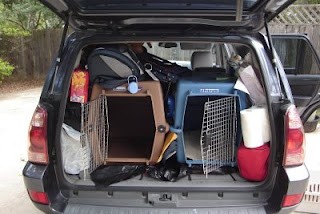 And here's the two missing pieces loaded up and ready to go.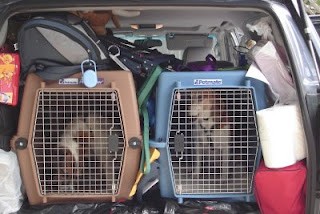 A side view, with cats and gear in there.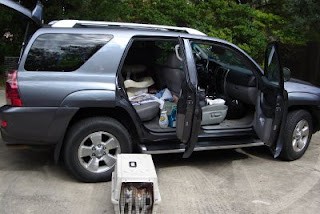 Once we got home the whole crowd was tired. Here you can see Levi taking a nap with Ike. He really missed his swing. He almost always uses it for naps, so he had a hard week without it.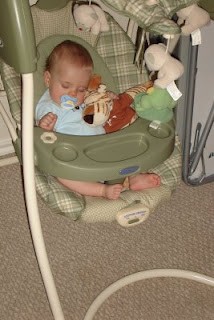 Below is the path of Hurricane Ike. That little orange dot is our house.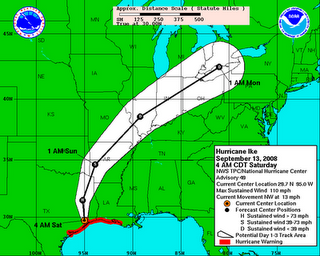 As a result of that orange dot we had roof damage. Luckily Kendra's parents were at our house for the storm. We would have preferred they evacuate, but they were a huge help being there. Kendra's step dad went up on the roof with our great neighbor Shane and put tarps up for us while we were out of town. The roofer that came later to make sure we were good until the insurance adjuster came said it was great and he wouldn't even need to adjust it.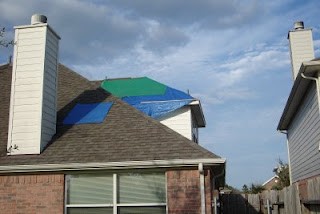 The roof damage resulted in a leak, which resulted in ceiling damage. Once again Kendra's parents came along and saved the day. They poked a whole in the ceiling and put down tarps and trash cans to catch the water. This helped prevent it from overflowing and destroying more. They also covered my custom homemade bookshelves full of books.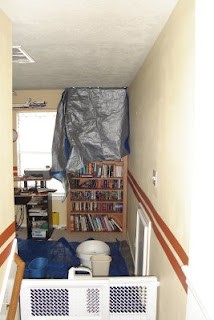 Here's a closeup of our damage. I went in the attic and couldn't really see damage in there, but I couldn't get over there very well because of a return air duct in the way.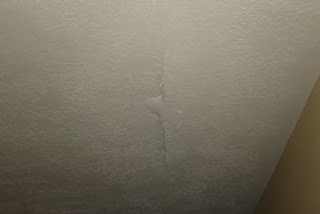 Most of our fences were damaged, as you can see below. The ones that are up are still damaged and will probably have to get replaced because they are really loose. The tree is also leaning about 30 degrees off.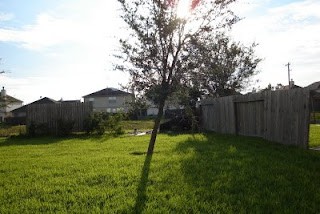 In the end our damage was nothing compared to so many other people. We lost some food, some fences and some roof, but we were able to come home to a safe home. Please keep all of the people who lost things in your prayers.