New season of life!
Well I am officially a part time employee as of this week! God has blessed us to be able to work out a plan for me to work on Monday, Wednesdays and Fridays. It will be so great to spend more time with Levi and get our house in order (or at least try). I really appreciate my teammates and company for supporting us in this decision.
Levi is such a joy. Everyday he learns something new and shows me something about myself. He helps me to sit back and enjoy the most simple things like feeling the wind in our faces and holding hands. He loves to be outside enjoying the beauty that God gave us.
Below are some random pictures from the last few weeks. Robert has some different ones on his site but we might have duplicated.
This one was one morning when we were about the leave for work and school. He is such a happy guy in the mornings. Lots of smiles and talking. Actually he is happy majority of the time, I guess it is more so in the mornings since he is well rested.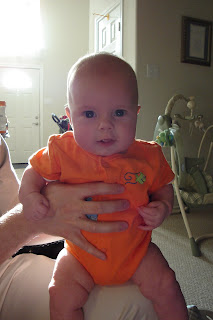 He is starting to sit up on his own. Here he is sitting on the floor. He was doing really well but the camera took too long to go so we missed some of it. He loves being able to look around. He has started getting in the exersaucers at school. We have one we are borrowing from a friend that we need to wipe down and bring inside. I can't believe it is already time for Levi to try it out!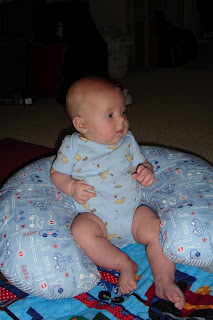 Random self portraits of us chilling on the couch.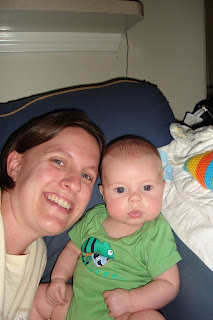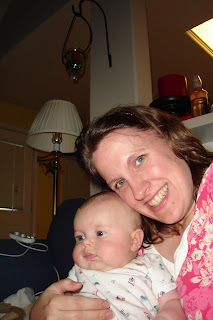 We put his new highchair together so he could sit at the table with us and see better. He seems to really like it. It was a gift from Ms. Jennifer, Mr. Bill and Ms. Caroline.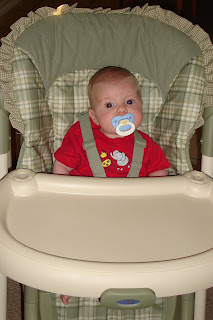 This hat is one from a friend who is a member of the Clear Lake Outlaw Knitters (C.L.O.K). We found it hanging on a light in front of our house one night.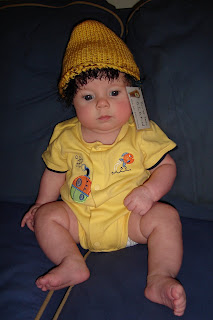 Levi is big enough to go for walks without his carrier now. It is much cooler for him. We just need to figure out how to rig up a sunshade for the fron part. Need to get some clothes pins…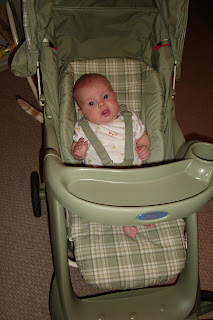 Here is Grandaddy Hogle playing with Levi when we were over one time.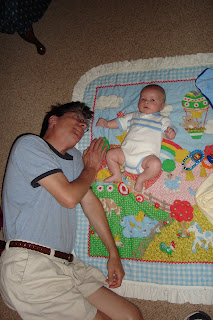 Great Maw-Maw McGowan came for Uncle Matt's wedding and got to hang out with Levi a lot. Here they are on the back porch of Granny's house enjoying the nice summer weather.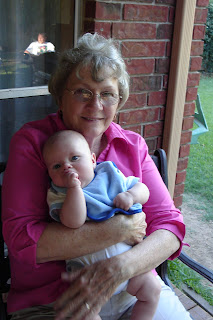 Ms. Jennifer also got Levi these awesome sun glasses as a gift. He is finally big enough to wear them. He actually doesn't seem to mind them. I tell you, he is so laid back.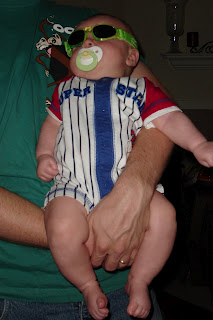 This is a picture Robert shot at the wedding. Levi was getting a bit overwhelmed at the wedding so we went outside to get some quiet and enjoy the weather after the rain.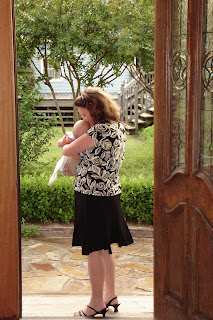 Summer baby! This is an outfit that my friend Theresa gave us from her son Matthew who is just about 1 year older than Levi.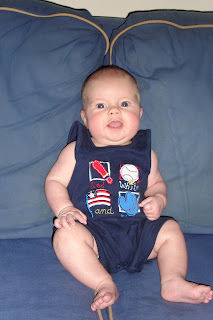 That's it for now. My Mom just brought over her pictures from the wedding weekend that I will try to post some on here. She got better shots of my brother and Jennifer.
Love, Kendra