Some pictures just scream for captioning. One of the great things about babies is their total innocence in what consists of a funny face. Levi makes all sorts of faces that bring joy to our lives. From the simplest smile to the grunting red face that signals a diaper change on the way. The one below is great. Its like this extreme surprise at something. It would make a great Caption This contest.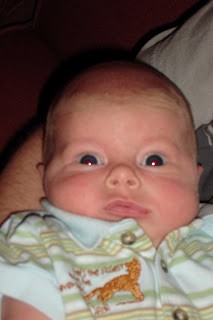 "Whoa, what's that in my pants?"
"Wait, you mean they're remaking Bill and Ted's Excellent adventure?"
"She said what?"
"That is the biggest thermometer I've ever seen?"
"Wait, you mean I have to get more shots?"
etc.