Since we were on vacation we never rushed to get ready in the mornings. Here's my Aunt Sallie on their porch with Levi enjoying a beautiful morning. The live north of Baltimore, far enough out that the views are just awesome.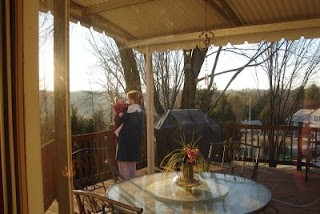 Here's Kendra with Levi enjoying the same view.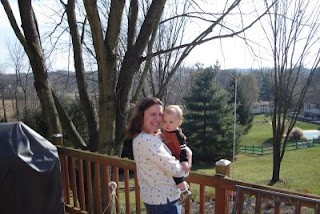 And here's a great shot of the view. Its just beautiful up there.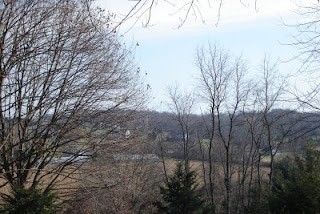 Here's Levi adding some bonus fingerprints to the windows. He loves banging on windows.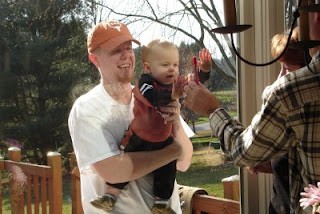 We went to an awesome park near my aunt and uncle's house with Levi. The park was built by different people in the community and has to be one of the best community parks I've ever seen. Here's Levi checking out a bell system they had. He enjoyed making noise with it.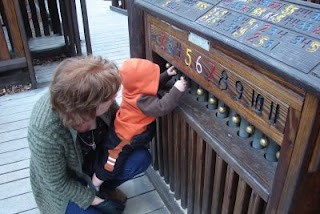 A closeup of the system. Just a striker and a metal tube. Joy for our little guy.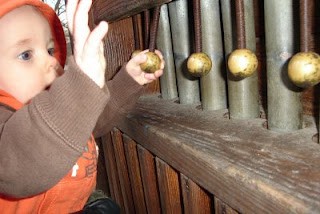 We discovered that Levi loves to swing. They had one of the baby swings that makes it very hard for the kid to fall out. Here's some video of him swinging. Notice his death grip on the swing.
He did eventually let go, and was still having fun.
Later daddy took him for a swing on his lap, this was also fun. The camera couldn't handle the focus very well though, so I go in and out as it struggled to keep up.
A shot of us coming towards the camera.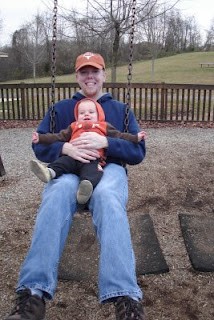 Here's Uncle Larry swinging with Levi too.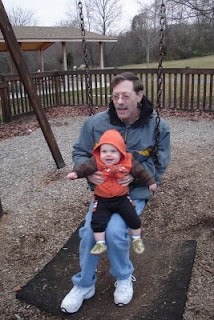 Here's Kendra with Levi on the play area, like I said, it was a really nice playground.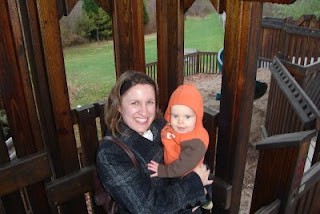 After the playground we went to a park just down the road with lots of birds, more for Levi to check out.

Here's a great picture of people feeding the geese in the background. The best part is the lady in the white shirt doing the feeding is parked right next to where I took the picture. She parked in front of the sign in the foreground, the one that says "No feeding the water fowl". Nice.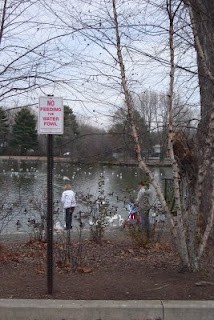 One more batch of photos to come, and watch out for goose poo.