Levi has a buddy at school named Erik. Erik is the son of one of Kendra's friends and coworkers. They both had the same outfit for Halloween, so they wore it together on Friday. Here's the two of them playing. Levi is either demonstrating some karate moves or trying to baptize Erik, I'm not sure which.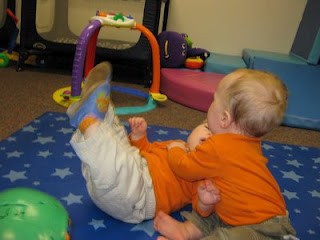 Their shirts say "This is my costume". They have almost identical colored eyes as well. They're a matched set, born only a few days apart.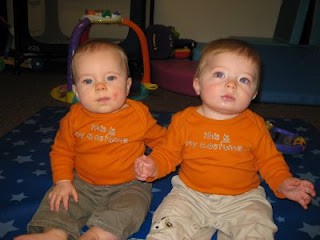 Here's the whole family for Halloween. We went outside to enjoy the great weather. Levi was a ferocious pirate. He was doing lots of growling.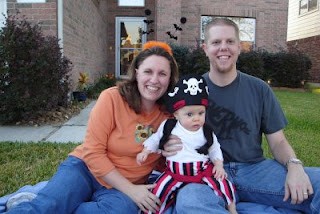 Here is Levi explaining the joys of grass to Eric. I think he's telling Erik that the grass is fun to pick up, but its easier to put the leaves in your mouth.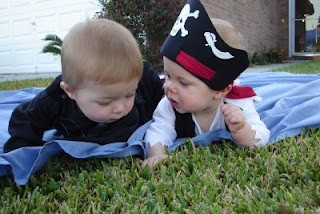 Levi has been clapping recently and loves to do it. Here you can see it in progress. Erik is playing the part of Batman.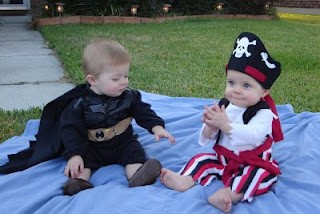 Levi can stand up now leaning against things. He's standing on his own here just holding onto the bouncer while Erik uses it.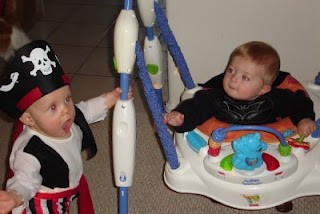 Here's Levi with me in my Halloween shirt. See if you can figure out what its all about.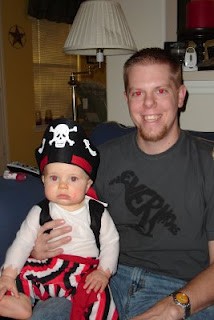 This Sunday my mom and step dad came over to see Levi and exchange some stuff with us. Levi was getting a little tired and fussy, so we gave him his candy container from trick or treating. It makes a great drum.