Just hanging out, meeting the dogs and swimming
Levi was playing on the floor one day and decided that his moose would make a great pillow. It was quite funny.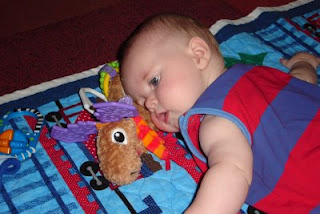 Levi has really started watching the animals recently. Here he is petting Lily for the first time. He loves the dogs and they like him right now too. Especially when they sneak a lick on a foot.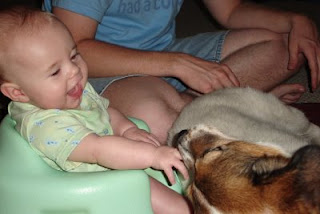 Bailey had to be restrained while Levi pet him.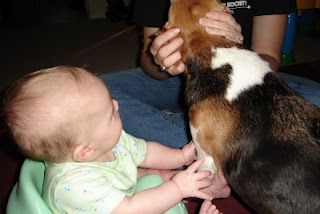 Granny and Grandpa came over on Tuesday the 5th when we were off due to tropical storm Eduard. They brought over a couple of books for Levi to enjoy.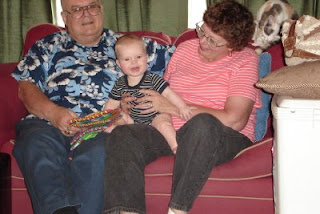 Levi used to lay like this on Robert a lot when he was smaller. This night he totally passed out on me and then I had to pass him off to go eat. Robert got to snuggle a very sleepy baby for about an hour. Snuggly babies are the best!

Levi has been napping like this a lot recently. It is so cute.


We got him a new pool float to use. He really likes it and we like it since it has a nice cover on it. He is still a bit small so we have to put some dish towels under him to lift him up a bit.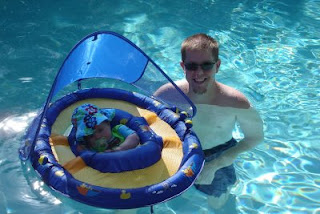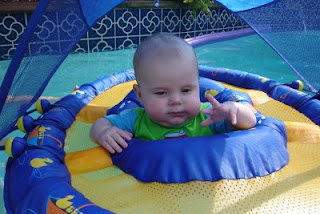 Here is another swimming video. Levi really likes it. He was kicking his feet and moving himself around the pool this time.
Overall we are doing well. Levi goes for his 6 month check up and shots on Thursday. Eating solids is going a lot better. We found that he like oatmeal and so far he has had applesauce, peaches, carrots, and bananas.
Well off to get Levi ready for bed. Goodnight!