Father's Day and trip to Austin
This last weekend was a ton of fun. We went to Austin to celebrate Robert's 1st Father's Day and celebrate our friend Stephen's 30th birthday! Check out Robert's blog for more pictures.
Here is Robert and Levi having a nice conversation on Father's Day. You can see video of it on Robert's blog. Levi is so happy in the mornings.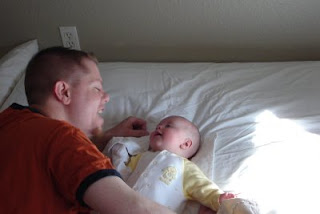 Here is Levi just chilling on the bed while we get ready to head out.

For some reason I didn't get any pictures of us eating at Kerbey Lane or going to the UT campus. We wanted to get a picture of Levi in front of Bevo but it was too bright. Next time we go maybe we can pull it off.
On our way home we stopped at Carino's Italian in Katy. This is one of our favorite chains Italian places. There is one in Katy and one in Pearland. We had a really good time with really good food.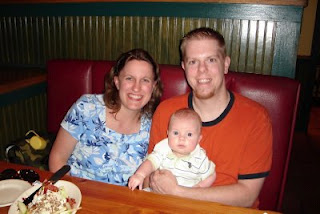 While in Austin we were also able to see my Paw-Paw Jancha. This is the 1st time he has met Levi.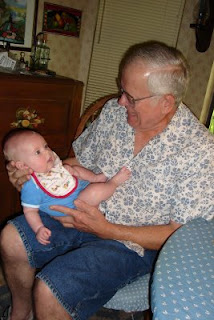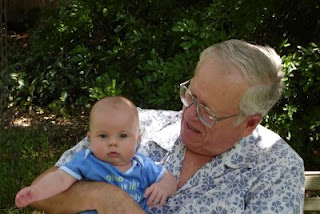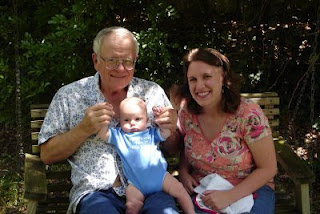 This is my cousin Katy. She is 7. She went out to eat with us at one of my favorite pizza places, Conan's. I wish we could have gotten together with the rest of my family but it didn't work out.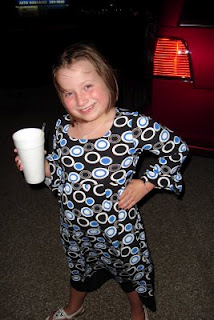 This is Paw-Paw's girlfriend Alice. She is a very nice lady and we enjoy visiting with her when we go to Austin.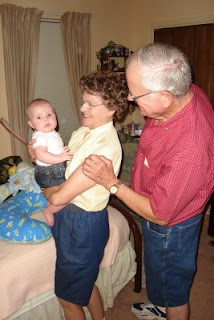 We look forward to seeing Paw-Paw and Alice when they come in July.
Levi also rolled over from his tummy to his back on Father's Day! Robert has pictures on his blog of it happening. He was so excited that he got to see it happen.
Here is Levi sporting his outfit that Misty gave him. I just love his little shorts!!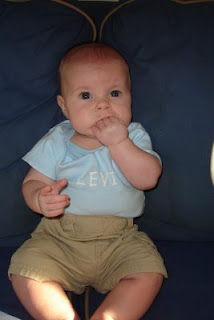 Levi is doing so well with his tummy time. He hasn't rolled over again but is really close.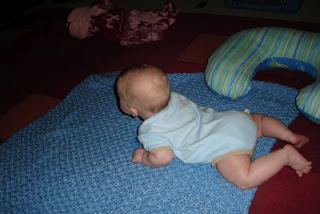 Levi is starting to notice the cats more. Here he is petting Tyler.

Have a great weekend!