This is one of my favorite pictures of Levi so far. I like his expression here.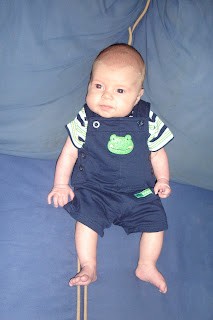 He's getting good at grabbing things. He still has random hand movements, but he manages to grab things after a bit of concentration.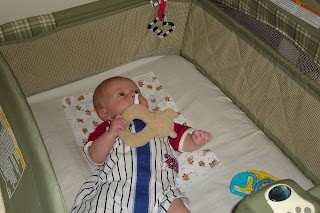 Its hard being a baby, and sometimes you just need to rest.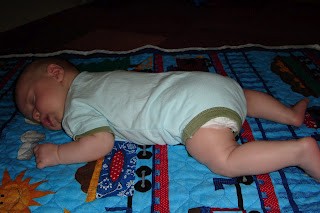 Mommy and baby hanging out. He was doing good hanging out. Notice he's got shoes on. That's his first time wearing shoes. Awesome.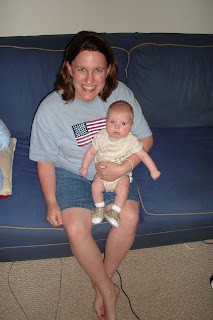 He likes his little rocker. Here he is staring at a sheep. Don't worry, he's not THAT interested in them, so we don't have to worry about him becomming an aggie.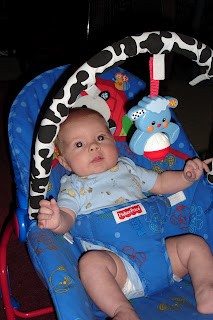 So there's this great book called "The Name of the Wind" by Patrick Rothfuss. I read the authors blog because he's pretty funny. This month his paperback version of the book came out, and he did a contest to post pictures with the book for prizes. A month ago he announced the next book in the trilogy is not due for another month do to things out of his control. So my caption for this picture, "Levi can't believe he has to wait another year for the next book. That's a long time for a two month old."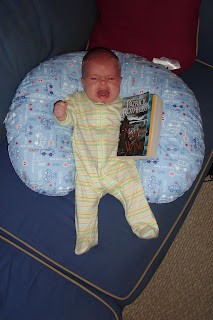 Levi's buddy Gus has a "Don't Bug Me" shirt, and we saw this one and decide to get it for Levi to wear. He seems to like it.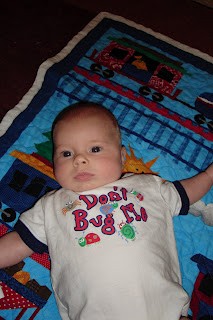 This is a special picture right here. That outfit was worn 29 years ago… by me. It has regular buttons. Man, that's so old school.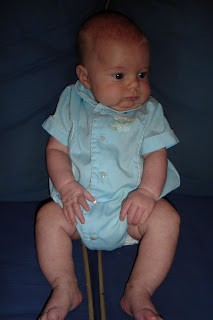 This is another old school outfit I wore. Once again regular buttons. It is definitely harder to get a baby in an outfit with all that regular buttonness going on.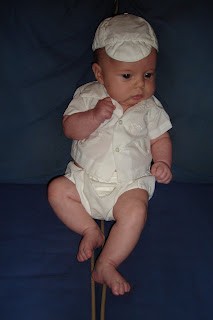 A tip of the hat to you. We'll see you later with the next set of pictures.