At the beginning of the month we went up to visit Levi's friend Olivia and hang out with her family. We went swimming and had some burgers off the grill. It was a nice time together and the kids had a ball. We went swimming at the neighborhood pool and this is after that. Both kids had their bath and were ready to play some more.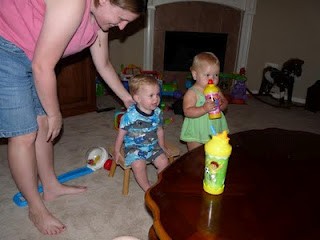 Here's a quick video of the two of them playing. You can't hear super well over the adults talking, but Levi says "happy" several times.
This is at a friend from church's birthday party on the fourth of July. We're all wearing matching t-shirts from Old Navy.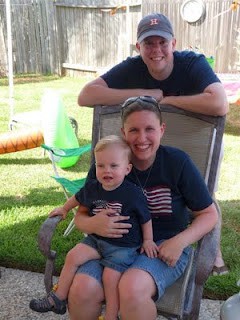 After all the playing that weekend Levi was pretty tired. He ended up out cold on the couch at the house we were at.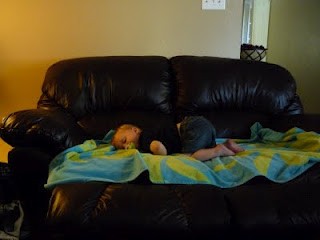 Levi and I were all ready for bed, but taking a little bit to play together first.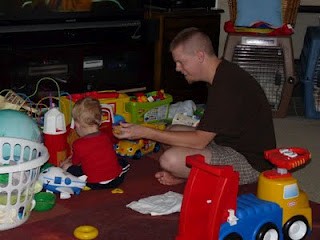 One evening Kendra went out with friends and Levi and I stayed home. We decided to play out front in the sprinkler, so here's a little video of that.
Here's Levi in his Astros outfit. As you can see he was ready to eat. Unfortunately he decided to have a messy meal and ended up out of the outfit before he even left the house.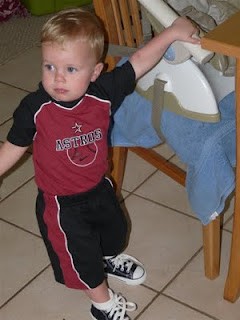 Here's Levi taking full advantage of the No shoes, No shirt, No service policy. Nothing there about pants.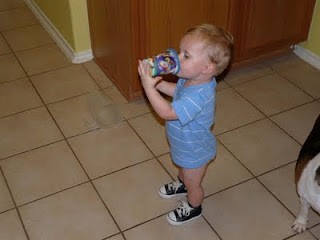 This last weekend one of Kendra's roommates from college, Trudy. Here you can see Trudy's husband Woodrow next to Kendra. He's holding Kendalyn (not sure if I spelled that right) and Peyton is right in front of him. They were in line for the carousel, while Trudy and I took pictures.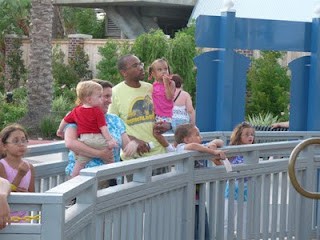 Here's Levi on the second story of the carousel at the Kemah Boardwalk.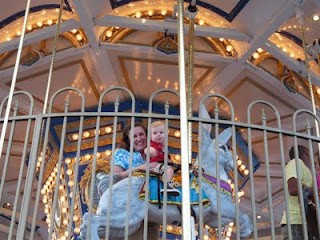 There's Peyton waving. Woodrow is right behind with Kendalyn.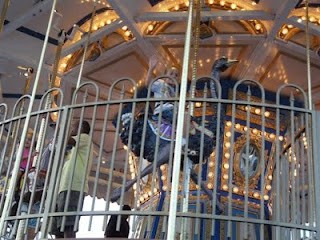 Here we all are right outside the Bullet roller coaster.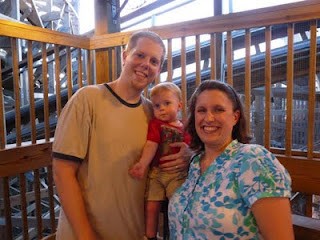 This is a shot of us on the train. Levi was getting tired here, but he did great.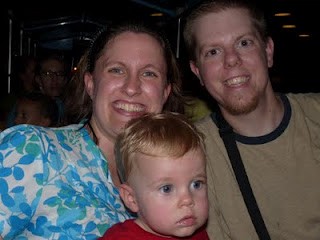 Look at that big boy. He looks very tired here. He had fun on the train and did a great job of riding without getting in any trouble.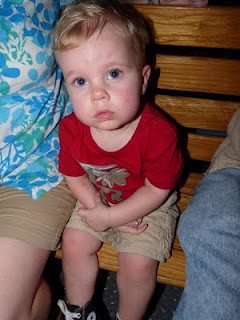 On Saturday we went to the beach. Once again Levi had a ton of fun.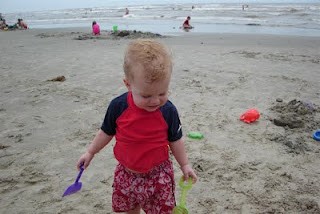 Here's Kendra, Trudy, Levi and Kendalyn.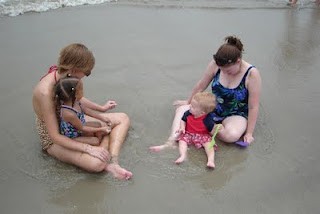 Levi and Kendalyn had a lot of fun together. Some other kids had dug a big hole that they were playing in. It was cute watching them.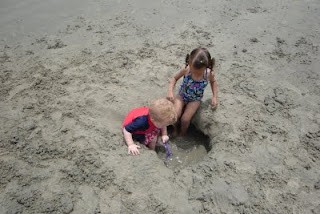 They ended up getting down in there as the hole expanded. Apparently the secret for keeping them busy is to dig a hole and put some water in it.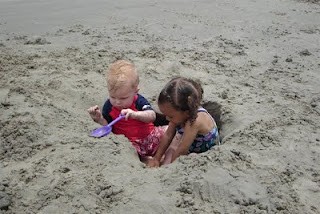 Of course the next step is to put muddy sand on each other.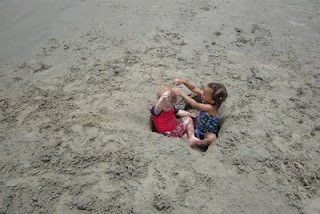 After all that playing we cleaned up and took a picture. Kendalyn wanted to be in the picture. Peyton was more interested in looking at the beach, so he's behind us.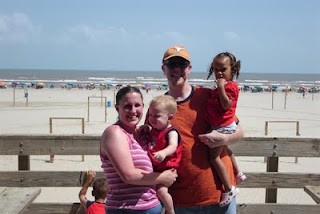 Levi was out cold after all that running around.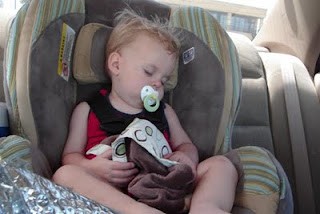 Breakfast the next morning before the zoo was fun. Levi spilled orange juice everywhere, so he's topless eating his breakfast.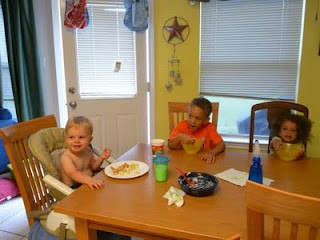 Levi wasn't so sure about standing by himself at the sea lion.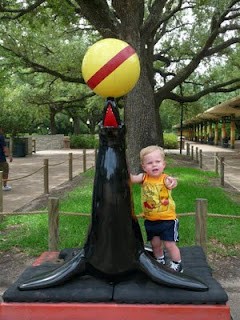 He wasn't so sure about standing with his friends by the elephant either. At this point he'd had a long day and was tired out.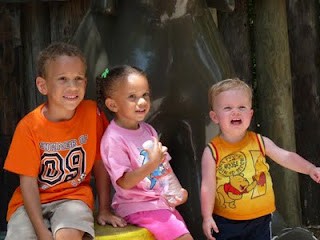 We had a busy month, visiting friends and going all over the place. Levi loved having friends staying with us and is still catching up on sleep.