Levi's Room, Reading Time and 1st Play Date
I have finally remembered to take pictures of Levi's room! You will find them below. The curtains were made by my Mom and the fabric picked out by Robert. I was going to paint letter for his name but went to Hobby Lobby and found them already white. Perfect and cheap!! The Winnie the Pooh theme isn't too much in his room so that when he grows up and wants something different, it will be easy to change.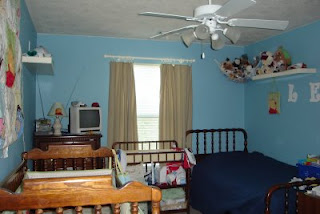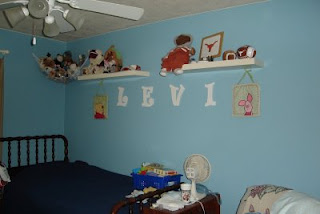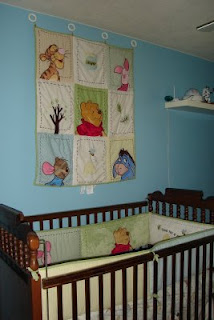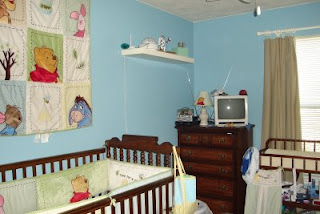 Levi was cranky during Tummy Time this week (angry picture here) so we gave him a book to read. He liked it a lot better then.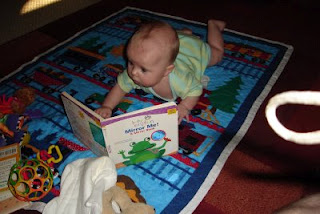 He also had his first play date this weekend. My friend Ann has a daughter named Olivia. She was born on Feb. 15th so they are super close in age. It was a ton of fun. The 1st picture is of them first meeting and the 2nd is of them listening to Ann sing. There are more pictures on Robert's blog.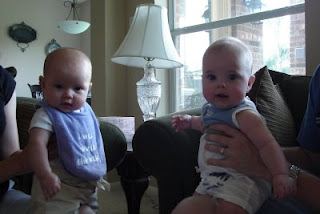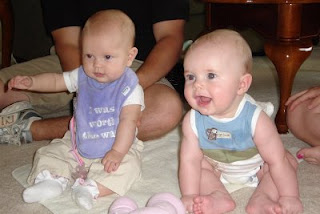 Levi has a new toy from Granny. He loves it and the ears are tasty too. He is getting to be such a big boy.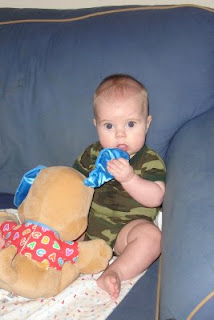 Robert is in Arizona this week for work. We will miss him a lot but hope the week goes by fast. Yall have a great week!
Love, Kendra and Levi.