Wonderful weekend!
Robert and I had a wonderful weekend. On Friday night we went to a place called The Melting Pot. It is a fondue place in Houston. We had never been before and I have talked about it for the last 4 months or so. We had a cheese course, salad, main entree where we cooked our own meats and then the final course was the chocolate! Here are a couple of pictures from our visit.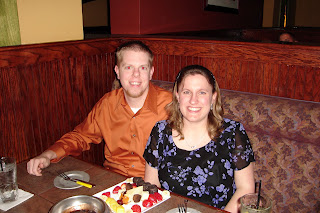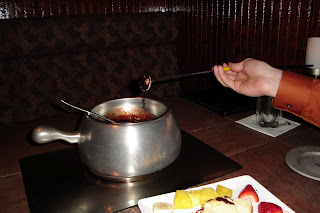 We had a weekend of being together around the house taking care of things. We rented The Departed, Stranger than Fiction and Flushed Away. All were good. On Saturday we went to Lowes for several hours and came home and did yard work. Sunday we went bowling and came home and worked in the garage. It looks SO much better. I made a goal to spend more time at home and say no to people sometimes. So far I have done better and I hope I keep it up.
We have a ton planned in the next month and a half. We are going camping, to Austin 2 times for Stephen's wedding, Ft. Worth for Peyton's 3rd birthday and then back to Austin for the MS150. I'll try to post pictures when possible.